The Groupe des Sociétés VIALLET considers that its development should integrate constant improvement of quality for its clients and its staff.
The importance that we place in ensuring consumer safety and product traceability has led the Group to protect its products thanks to a company environment. Therefore it has set up an H.A.C.C.P. system, Hazard Analysis Critical Control Point).
We are currently the only winemaking company in the Savoie to have obtained these certificates.
There are two main aspects to i ts work:
A relational aspect based on informing, motivating, and uniting all staff members, and the Group's winemaking partners.
A more technical aspect linked to compiling specifications documents, instructions, and procedures, and ensuring that these new documents are applied and respected.  It also anticipates the investments required for our development.
The quality policy of the Groupe des Sociétés VIALLET exists to ensure that each clients can have confidence in our products, by guaranteeing top quality products and respecting the environment.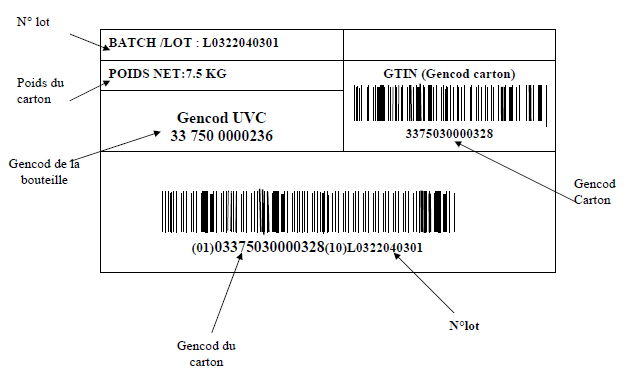 All products cartons have label information.
Analyses are performed on all the Group's wines.
An H.A.C.C.P (Hazard Analysis Critical Control Point) system is applied at the S.I.C.A. 'Les Vignerons des terroirs de Savoie' and at the C.E.C.A.P. which bottles the wine.
Our suppliers respect very strict specifications in order to meet mass distribution demands. All the products are tracked from the very start of the winemaking process.
This traceability is organised as follows:
Upstream Traceability: The batch numbers of each product that we use are noted in a cellar register.
All the wines are recorded in a cellar book ( operations, transfers, etc.).
Downstream Traceability: AU the products have a unique batch number and each range is tracked (see following page).
A computerized system manages all the products entering and leaving the warehouse.
Production

Packaging, Print numbers, Print batch numbers, Gencod

Send pallet to warehouse

Palet labeled and finished. Label scanned to be placed into stock

Order

Pallet boxes are taken individually to form the future order and the scanner records them as exiting stock

Transport

Future pallet with creation of a new pallet label (order no., recipient, article name, batch no., SSCC)

Destination

With its traceability system the Groupe des Sociétés Viallet can identify the destination of each pallet dispatched